An interim management firm in line with the operational needs of its customers
EXPERTISE IN LINE WITH SOCIO-ECONOMIC EVOLUTION
Over the last twenty years, the three following events have made our expertise necessary, supporting the relevance of our model, and explaining CAHRA's success with the interim management offer:
1

The effects of the Delalande contribution

In the middle of the 1990s, the Delalande contribution, a tax originally intended to discourage companies from laying senior employees off, resulted in a reverse effect to the one intended by the legislator: companies were laying off many employees just before they reached the age of 50. Thousands of Senior Executives found themselves unemployed or forced into early retirement, ready to use their skills for the benefit of companies.

2

A sharp increase in structural and organisational change

This increase occurred within companies during the 2000s. Change did not occur over periods of 10 years any more, but less than 3 years, sometimes less than 6 months in some lines of business. At the end of the 2000s, the rise in Occupational Stress Factors reflected this increase of the changes within teams, which were getting smaller and smaller, burning out.

3

Line and staff reduction at all levels of companies

The reduced levels of hierarchy and the constant tension on staff numbers created an operational performance shortfall within organisations, in contexts of change.

An operational management solution, drawing on experienced senior profiles, focused on the stakes of the company, seemed appropriate to support organisations throughout change.
The CAHRA adventures key dates
1995
Emmanuel Buée, developing the activities of the Robert Half International group in France, witnesses the negative effects of the Delalande Contribution. As thousands of competent Senior Executives find themselves unemployed or forced into early retirement, he takes a great interest in the matter of senior employment.
1998
Emmanuel Buée launches the Management Resources division for the Robert Half group.
2004
he carries out over 200 missions in the interim management field, developing an expertise which will become the core of our business.
2009
in October 2009, Emmanuel Buée and Philippe de Clerville decide to create H3O Interim Resources together. The central idea is to offer permanent contracts to high-quality experienced profiles, sent to companies for interim management missions.
A the same time, Emmanuel Buée and Philippe create with two other partners the Group H3O Human Wealth, which includes a recruiting company (H3O Specific Recruitment), a consulting and training company (H3O Consulting and Training) and an interim management company (H3O Interim Resources).
2012 - 2016
Offices are set up in Paris in 2012, in Reims in 2013, in Lyon in 2014 and in Toulouse in 2016.
2018
the name of our company evolves and becomes CAHRA by H3O. While H3O is a brand, CAHRA represents our interim management offer in France, but also in Europe, where we wish to pursue our expansion. Samuel Antonini joined the company in order to consolidate the foreign missions operated from France, and look for partners who could spread the CAHRA expertise internationally.
Today
CAHRA is not a simple player in the interim management field. It's the signature of the reference company in this field. The carat reference is about our international value, and we have also added the H for Human, because the human aspect is at the heart of our concerns. It is what makes our strength, our difference and our greatest asset for the future.
Next meeting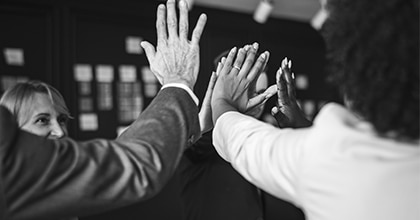 [WEBINAR] Comment manager la transformation ? Etape 5 : Les Quick Win
Lors d'une mission de transformation, l'étape des Quick Win permet de faire comprendre aux équipes qu'il est possible de travailler différemment, souvent de façon plus collaborative. Les Quick Win marquent les esprits pour favoriser la transformation de l'entreprise. Mais de quoi...
Register
Découvrez les expertises CAHRA
Nos managers de transition agissent dans une logique de mission. Leur rôle est de transformer les organisations qui leur sont confiées dans un temps limité, selon des objectifs définis. Cette équipe d'experts, tous permanents en CDI, a été constituée pour répondre au plus près des attentes de ce marché.
Discover our expertises