Our values, the key elements of our interim missions
Four values shape CAHRA's DNA:
Solidarity
Honesty
Care
Performance
These values are defined by the entire group of interim managers, as they guide their action.
Their managerial position makes it possible to drive operational change and serve your challenges. Our interim managers take your employees "on board" with them and assist them in the assimilation of the new tools or work methods.
Our credo: base the transformation on the existing structure.
Our commitment to Corporate Social Responsibility (CSR)
To us, CSR is simultaneously a value and a commitment In this respect, CAHRA has Lucie labelling.
We consistently experience CSR; for example by backing up the project of Le Reflet, a restaurant employing mostly people with Down's syndrome.
Our collective commitments are also athletic, through Triathlon Club Nantais (TCN). CAHRA is supporting the club into its move up to Second Division, as we support the values of multi-sports, abnegation, self-awareness required by this activity.
We are proud to see human values and potential growing through daring projects.
Nos partenaires partagent notre soif d'innovation humaine
CAHRA's historical partner, groupe Référence (IS management and marketing subjects), is growing at the same rate. Being complementary, we share our feedback in order to improve our methods at the end of the joint missions we carry out several times a year.
What makes us unique is to have created a single feature for France, that of Collaborative Mind Manager, in order to develop all the aspects of the collaborative mind within CAHRA and thus optimise our support on your interim management missions.
Next meeting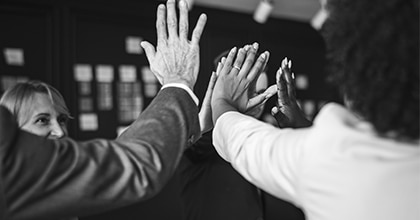 [WEBINAR] Comment manager la transformation ? Etape 5 : Les Quick Win
Lors d'une mission de transformation, l'étape des Quick Win permet de faire comprendre aux équipes qu'il est possible de travailler différemment, souvent de façon plus collaborative. Les Quick Win marquent les esprits pour favoriser la transformation de l'entreprise. Mais de quoi...
Register
Découvrez les expertises CAHRA
Nos managers de transition agissent dans une logique de mission. Leur rôle est de transformer les organisations qui leur sont confiées dans un temps limité, selon des objectifs définis. Cette équipe d'experts, tous permanents en CDI, a été constituée pour répondre au plus près des attentes de ce marché.
Discover our expertises