Interim management, or transformation through management
CARHA develops and promotes a job: interim management.
In order to assist your company and your staff in the surge of structural and organisational changes affecting performance, in France and abroad, we provide you with interim managers
Making the specific interim management know-how available, which combines experience, industrial or services expertise and soft skills (socio-emotional and cognitive skills);
Immediately operational, thanks to their multidisciplinarity (finance, HR, industrial leadership roles – all lines of business – companies of all sizes);
Employed by our company with permanent contracts, therefore totally dedicated to your challenges.
Our interim managers develop innovative management methods, by focusing on:
Emotional intelligence, which fuels the relational intelligence interlocked with collaborative performance;
The side step, or meta posture, which makes it possible to share a common reality and the transformation options;
Methods and measuring systems, such as diagnosis, reporting, co-development workshops, etc.
"We believe that management is the KEY to successful transformation."
A transformation conducted with the women and men of the company
The transformation driven by CAHRA is fuelled by a systemic approach of the issues: in a changing environment, in which goals evolve constantly, the question of "how" becomes decisive.
Our interim managers involve your staff in the transformation, enabling them to rediscover their strengths, boost their skills, give meaning to their career path.
Our ambition is to help your company become autonomous in its transformation process and grow in terms of performance, but also of human value.
Next meeting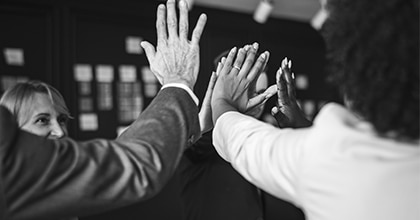 [WEBINAR] Comment manager la transformation ? Etape 5 : Les Quick Win
Lors d'une mission de transformation, l'étape des Quick Win permet de faire comprendre aux équipes qu'il est possible de travailler différemment, souvent de façon plus collaborative. Les Quick Win marquent les esprits pour favoriser la transformation de l'entreprise. Mais de quoi...
Register
Découvrez les expertises CAHRA
Nos managers de transition agissent dans une logique de mission. Leur rôle est de transformer les organisations qui leur sont confiées dans un temps limité, selon des objectifs définis. Cette équipe d'experts, tous permanents en CDI, a été constituée pour répondre au plus près des attentes de ce marché.
Discover our expertises